Spur gears
1. Why do spur gears with small numbers of teeth have a corrected PCD?
Where the number of teeth on a small pinion is low (< 12 teeth), the bottom of the hollow between the teeth is very narrow. Consequentially, it is difficult or even impossible to engage these gears; the heads of the teeth of the larger gear cannot get into the gaps between the teeth of the smaller pinion. This is known as interference.


Also during the manufacturing process, the cutting tool must work right to the bottom of the tooth hollow, this can cause cutting interference. This cutting interference is higher than the interference under normal working conditions and can considerably weaken the tooth.
To avoid this interference the idea of "teeth correction" was introduced into the gear manufacturing process. As a bonus, this process also brings about improvements in the teeth's resistance to wear.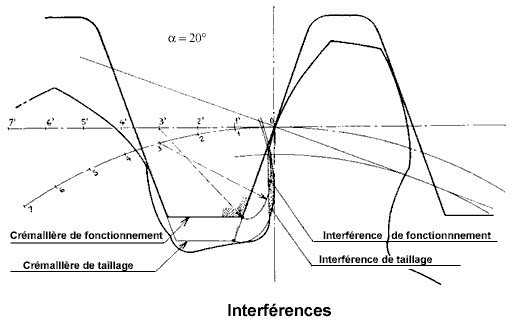 The most common method is to modify the PCD of the gear by +/-1 x Module : this is know as displacing the teeth.
Note: these modifications must be taken into account when calculating the distance between the centres.
Technical files
General information
Products