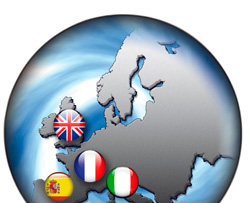 Engrenages HPC SARL

58, chemin de la Bruyère
69570 Dardilly
Lyon - France

Tel.:+33(0)4 37 496 496
Fax :+33(0)4 37 490 055

Limited liability company,
Issued Capital of 76,224 Euros
Company Registration
No 382 911 907 (Registered in Lyon)
Company Classification APE 4669B
VAT Registration: FR 41 382 911 907

Italia
Ct Meca S.r.l

Via Valfrè 14
10121 Torino - Italia
Tel: +39 011 760 95 05
Fax:+39 011 760 91 51
www.ctmeca.com
@:


Spain
C.M.H AUTOMACION, S.L.

Pol. Ind. El Collet 401 A Nave 1
12580 BENICARLO (Castellón)
España
Tel:(+34) 964.46.12.41
@:


United Kingdom
Ondrives Ltd.
(Mechanical components)
Foxwood Industrial Park
Chesterfield, Derbyshire, S41 9RN, UK
Tel : +44 1246 455 500
Fax : +44 1246 455 522
www.ondrives.com
@ :

The company
Engrenages HPC is a Limited Liability company that is specialised in the distribution of mechanical components and power transmission products, some of which can be manufactured or modified to order.
Since 1991, the company has built up its reputation by constantly increasing its range of products and today offers more than 30,000 different references. As in the beginning, HPC promotes still its products through its now infamous small catalogues:
Mechanical drive components
Power transmission
Linear guidance parts
Precision gears and sprockets
Conveyor and housing parts
Standard parts modified or new parts manufactured to order:
In addition to the wide range of standard products listed in the catalogue, HPC is also happy to respond to request for non standard items from its customers. This is possible due to the wide network of suppliers that the company has built up over the last 25 years.
Highly trained technicians are available to help those customers who need standard products modified to meet their specific requirements, pieces manufactured to measure or sourcing items that are not in the catalogues. Always keeping up to date with the latest technologies, HPC now offers a 3D printing service.
Key milestones
2016 : 31,000 references online and 1,350 product families modelled
2013 : 29,000 references online and 1,100 product families modelled
2011 : introduction of a new range of precision gears
2010 : 25,000 references online and 750 product families modelled
2008 : 6,000 references online
2007 : creation of a 3d CAD portal (165 product families modelled )
catalogue increased to 5 volumes
2006 : 4,500 references online
2002 : catalogue increased to 4 volumes
2000 : catalogue increased to 2 volumes
introduction of the online SHOP
1998 : launch of the internet site www.hpceurope.com
1991 : company created
Key points
distribution of a wide range of mechanical components
manufacture of gears and gearboxes
manufacture of made to measure components
Industries served
mechanical construction
chemical
food
maintenance
packaging
printing
pharmaceutical
prototyping
design offices
...
Previous editions of our catalogues
Previous editions of our catalogues